View from the stairs of the rear entrance. Note the building with the green doors, the old school where a particularly menacing presence roamed and had no qualms about following me to the car! Historically, this building was also used during a tuberculosis epidemic and must have endured many harrowing years of death and misery.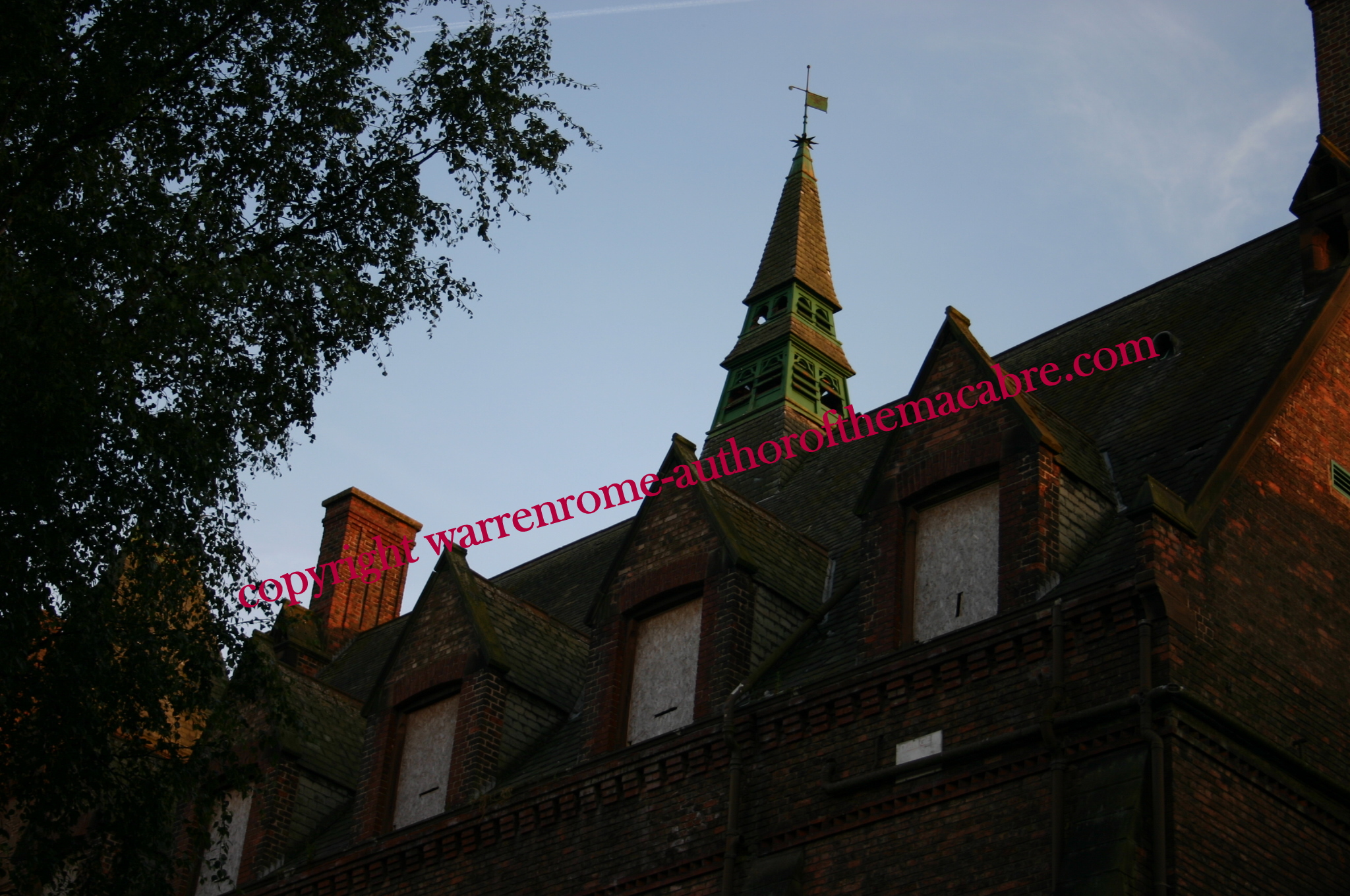 The bell tower. Only one person can fit at a time; alas, the place is unsafe and we could not venture into this area.
Upon entering the courtyard we were greeted by other explorers and our hosts. For a few minutes pleasantries were exchanged before the inevitable questions of past investigations and "scariest encounters" ensued. The hosts were extremely forthcoming with their experiences and it was obvious the passion for their hobby and now, trade, was overwhelming.
"The building was owned by one of the owners of the titanic. Apparently he had been an orphan and purchased this for the local children..."
I will not burden this mammoth blog with any of the stories and most haunted experiences, but they were not only interesting but inspiring for the forthcoming evening and what we too, might experience. One story worth noting however, as it is regarding the experience of one of our hosts when unlocking and checking the building before our arrival.
"I was with the owner and we were checking the place to make sure that nobody was in here that should not have been. Upon entering the rear entrance you will find yourself in a large corridor (see picture below). It was there where I saw her. A girl in a red hood. I shouted as I thought it was somebody squatting; the owner was on the far said of the main building and heard my shouts. I heard his footsteps as he ran towards me to see what all the commotion was about. Strangely, he knew already. A girl with a red hood on, was she? Yeah - she had been sighted dozens of times."
Although we could not include this as any evidence, again it confirmed we could be in for one hell of a night. However, we had to remain subjective and so upon entering the aforementioned hallway, we struck all the accounts from the locals and our host from our minds and made our way to the tables that housed refreshments. A sweet cup of tea was needed and I would not have denied that the option of a biscuit was not to be ignored.
This was the hallway where the "girl in the red hood" was reportedly seen